Environmental Responsibility
About the Company
information about the company
Bentel's vision is to create a company culture where environmental excellence is second nature.
As a responsible business philosophy, Bentel designs and manufactures its products in order to reduce environmental impact, to preserve natural resources during the product's life cycle and to have respect for nature. The reduction of environmental impact of Bentel products starts from careful planning and cross communication of several teams that take responsible and effective decisions.
The following environmental objectives have been conceived in order to make our vision possible.
Prevent Waste and Pollution
Operate Bentel's facility to minimize harmful impact on the environment.
Place a high priority on waste minimization, recycling and re-use programs, and pollution prevention.
Control of incoming products and raw materials Incoming
Avoid non-recyclable and non-degradable materials
Reduce energy consumption.
Use parts that are capable of being recycled at the highest level.
Set expectations of environmental excellence throughout Bentel's supply chain.
Continually Improve Our Performance
Use an Environmental Management System approach to establish goals.
Improve and monitor technology and environmental management practices.
Evaluate our progress and continually improve environmental efficiency.
Demonstrate Responsibility
Foster a culture of environmental responsibility among employees and management.
Act in an environmentally responsible manner through sustainable practices designed to ensure the health and safety of Bentel's employees, neighbors, and the environment.
Periodically communicate company progress to employees.
Engage stakeholders to improve products and processes.
Conduct business with integrity and dedicated observance of environmental laws and regulations.
Comply With the Law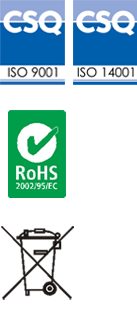 As per this policy, a wide range of initiatives have been conceived to facilitate waste disposal, decrease energy use and to reduce the use of dangerous material, according to the UNI EN ISO14001:2004 Directive.
Directive 2002/95/CE (RoHs)
Most of Bentel's systems and products are compliant with the RoHS Directive concerning the limited use of heavy materials. The Bentel plant is currently using a "lead free" process in the manufacturing of its products according to the applicable directives.
Directive 2002/96/CE (RAEE WEEE)
Waste of electrical and electronic equipment directive
In the European Community this label means that the product cannot be disposed of together with garbage, but it has to be collected and stored in an appropriate place to make the recovery of materials for recycling and processing.
Information on recycling and disassembling
Bentel asks its customers to respect the environment when disposing used devices such as control panels, detectors, sirens and other electronic accessories.
Possible solutions are to re-use or recycle functional products, components, and/or materials.
All our products are compliant to the WEEE Directive.
Plastic and mechanical enclosures for our products have been designed to be easily disassembled and recycled at end-life.
All screws applied on the products can be removed with a screwdriver.
Batteries are easily removable from the products without any particular tool.